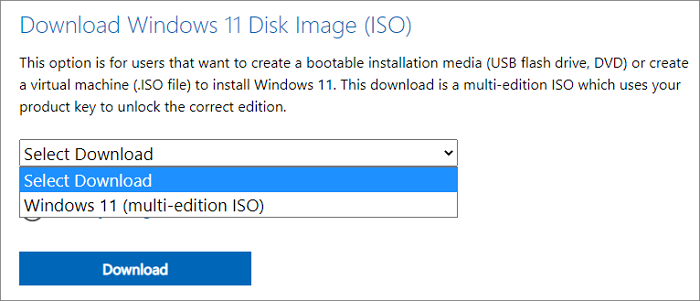 Windows 11 is available in six different versions, and they are:
Windows 11 Home
Windows 11 Pro
Windows 11 Pro Education
Windows 11 Pro for Workstations
Windows 11 Enterprise
Windows 11 Education
Among all the variants, the Windows 11 Home and Windows 11 Pro are the most installed versions. Are you ready to download Windows 11 on your compatible computer now? If you're interested in an automatic free upgrade from Windows 10 to Windows 11, click the link to learn detailed steps and happily embrace the new world. Besides the free upgrade, you can install Windows 11 by creating a Windows 11 Media Creation Tool or burning a Windows 11 ISO image to CD/DVD/USB for a clean install. 
So next, are there any Windows 11 Pro download full version direct links? Indeed, the download links refer to ISO image links, and you can find the different versions of Windows 11 ISO links online. Let's find out the most direct and reliable download sources for a safe Windows transition.
Page Navigation:
What's Windows 11 Pro ISO Image?
Full Name: Windows 11 Disc Image
ISO Meaning: An ISO file, also known as an ISO image, is a file that contains all the installation files for a single program.
How to Work: The Windows ISO image is for users that want to create a bootable installation media (USB flash drive, DVD) or create a virtual machine (.ISO file) to install Windows 11.
To sum up, the Windows 11 Pro ISO image is a file that contains the entire installation contents that consist of the Windows 11 Pro version. Actually, a Windows ISO file is no good unless it can be burned to a disc and become bootable.

Windows 11 ARM Download with ISO
If you want to check out Windows on your MacBook or construct a virtual machine using HyperV, you'll need to download a Windows 11 ARM64 ISO image…
What's Windows 11 Pro Download Full Version Direct Link?
As is mentioned, you need to download a Windows ISO file of the Pro version before officially installing it. So the critical step here is to find the download source of the desired version of the ISO file.
On one hand, we would advise you to download the ISO file from the Microsoft software download page, and here is the link address:
Download Windows 11 Disk Image (ISO)
Open the link and scroll down to the bottom page, and stay on the "Download Windows 11 Disk Image (ISO) section. There, you have one option to choose Windows 11 (Multi-edition ISO) to choose. Don't worry, this ISO file contains all the Windows 11 editions, including Windows Pro. It requires you to select the Windows Pro version during the installation process.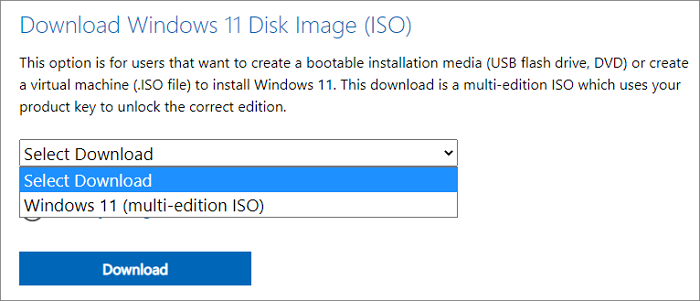 On the other hand, particularly before Microsoft announced the official release of ISO download links on its website, early adopters are eager to taste the new Windows operating system, they want direct links shared by others on Google Drive, Reddit, and other popular forums sites. This is somehow a risky attempt because we can hardly discern the links' security. Unless you've taken full protection of your computer from the virus, phishing websites, or malware damage, it's not a big deal to click the shared download links and save the ISO image to a safe location.
Reliable Sites to Get Windows 11 ISO Direct Links
Websites that offer direct download links for various editions of Windows ISO images sometimes release the latest OS build earlier than the Microsoft website. So, it's still necessary for software/hardware reviewers, technicians, or developers to keep updated with the five best Windows download sites for ISO disc image with direct download links:
Back up PC and Start Installing Windows 11 Pro with ISO
Take a full backup of everything you care about on your target PC on which you're going to install Windows 11 on it. Don't think the backup is a superfluous step. We have to admit that Windows 11 still has known issues and installation failure could ruin our computer. Data is priceless!
Here's a story about Windows 11 ruined my computer. But with a backup in advance, nothing can threaten our journey to a new road. 
Thanks to EaseUS Todo Backup Free, we can selectively choose to back up an entire disk/partition, personal files/folders, and the current operating system to fully protect the computer from being damaged or crashed. Moreover, if you regret upgrading to Windows 11, you can try to roll back from Windows 11 to Windows 10 at any time by performing a system recovery in EaseUS Todo Backup. Here, download the free backup software and follow the simple guide to creating a backup.
Step 1. Open EaseUS Todo Backup and choose "Create Backup" on the home page, click "Select backup contents".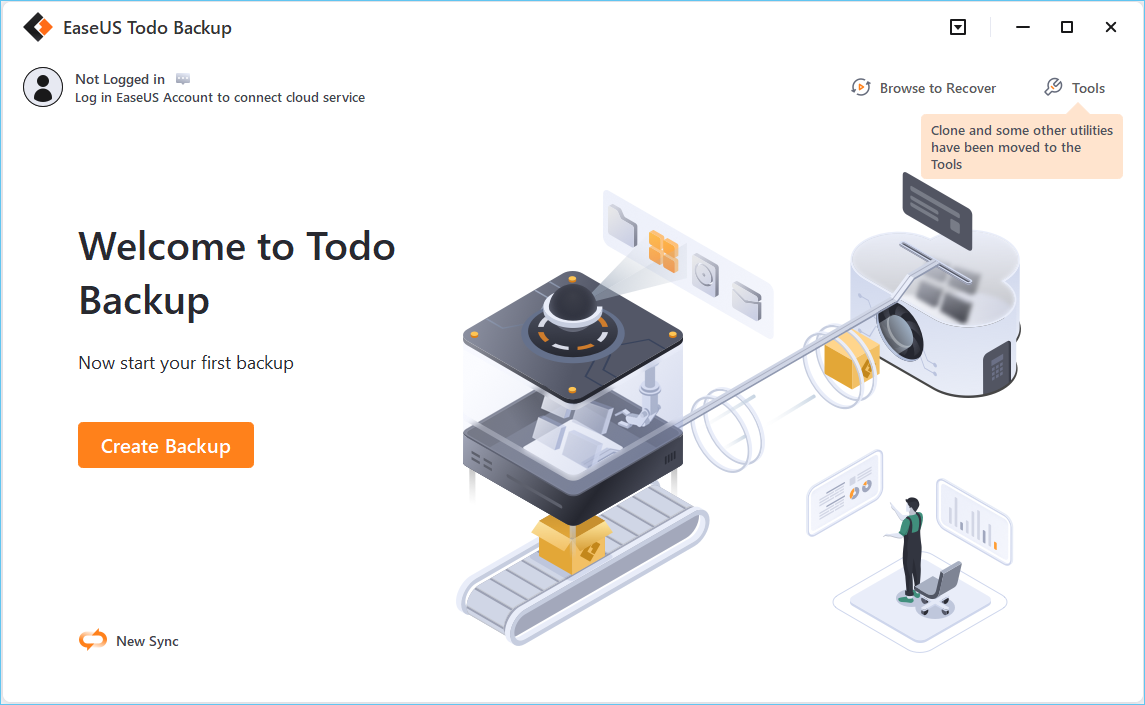 Step 2. As you want to back up your Disk, just click "Disk" to start back up.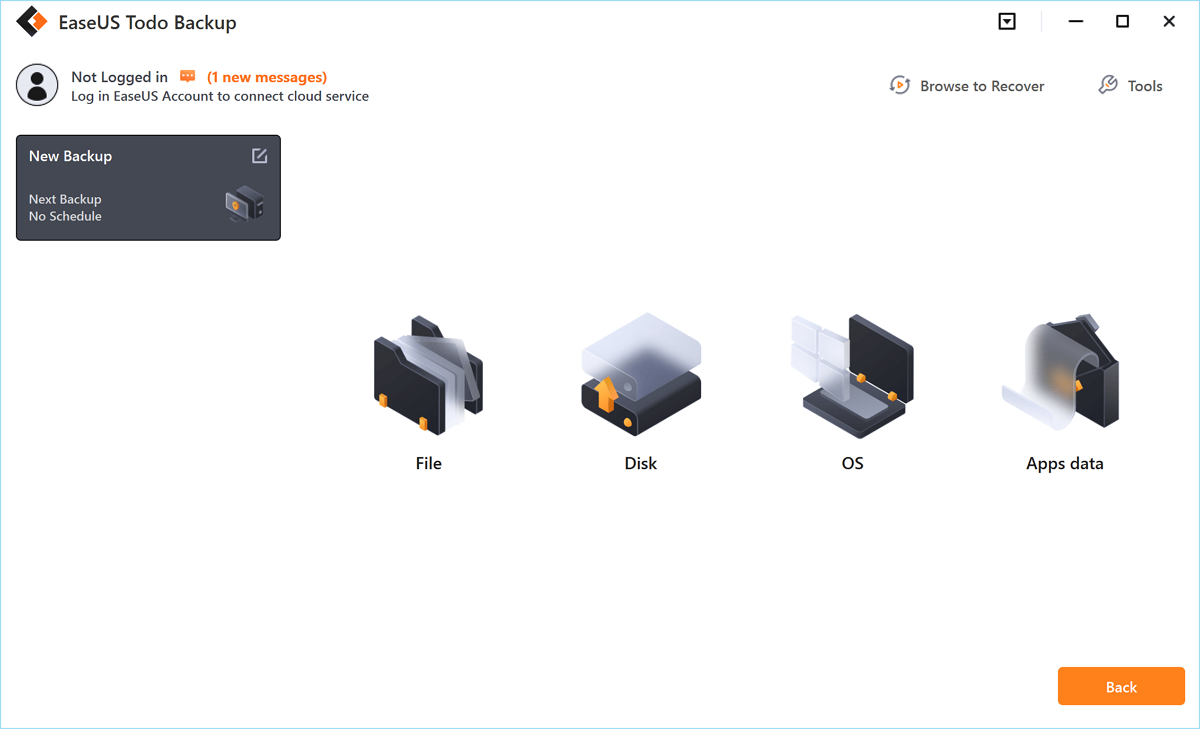 Step 3. EaseUS Todo Backup offers you options. You can choose to back up a whole disk or a certain partition as you need. And then click "OK".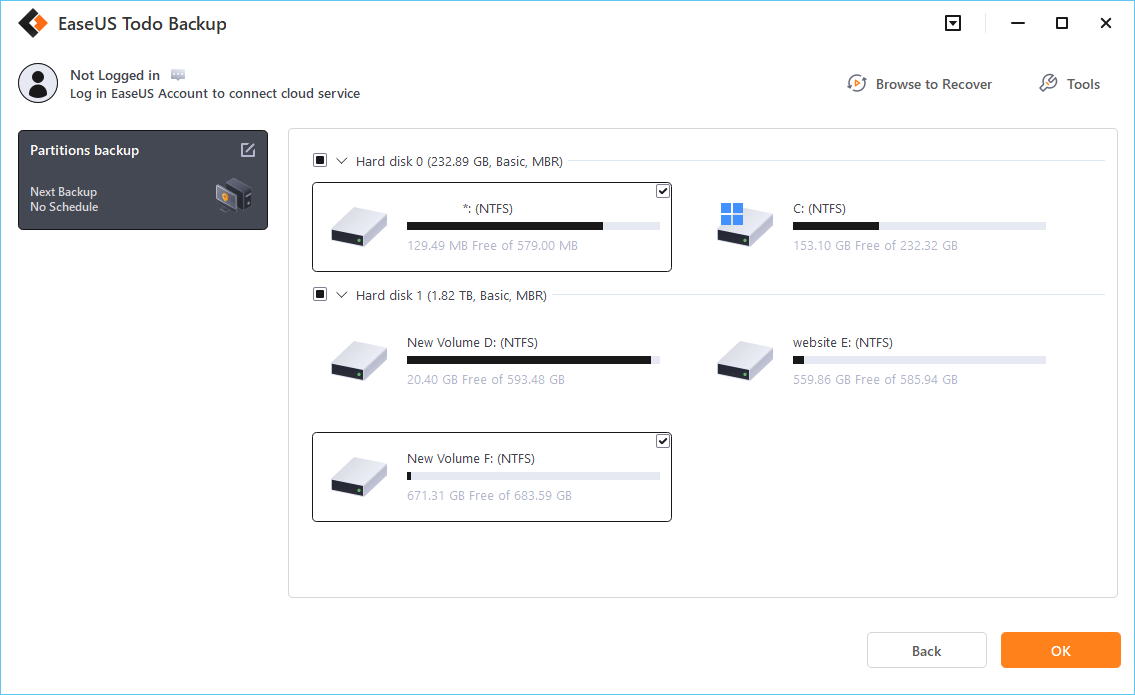 Step 4.  Select the destination where you want to save the backup. You can choose to save the disk to a local drive or to NAS.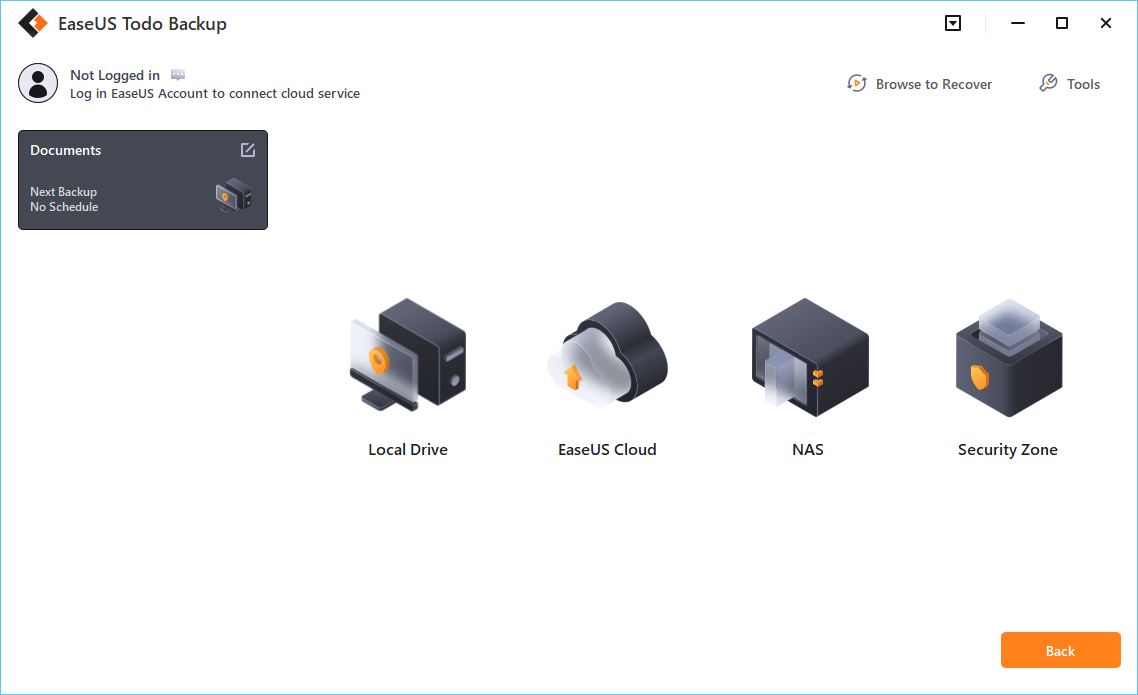 Step 5. Click "Backup Now", after the backup process is completed, you can right-click any one of the tasks to further manage your backup such as recover it, create an incremental backup, etc.
Now get started with the rest steps of installing Windows 11 Pro on your PC.
Step 1. Burn Windows 11 multi-edition ISO file to a disc (CD/DVD/USB)
Step 2. Insert the ISO disc image drive to the computer.
Step 3. Boot your computer from the installation disc.
Step 4. Press any key to enter the installation process. Follow the Windows Setup wizard guide until the last step.
Bonus Tip: Download Windows 11 ISO for Pro, Home, Enterprise
The previous two methods both require a self-download on a reliable website. Nevertheless, there is an intelligent Windows 11 builder tool that can make you feel at ease. It requires only a second download, but what it does for you is unparalleled.
The software is called EaseUS OS2Go. It's a lightweight software with powerful capabilities of cloning a Windows OS to an external USB drive, installing a new Windows OS on the current PC, and installing a new Windows OS on a new/different PC! It can meet all your demands of downloading Windows 11 Pro or Home ISO images for installation.
Step 1. The Windows11 builder is integrated with the EaseUS OS2Go software. Click the download button and launch the program after installation.
Step 2. Switch WinToGo Creator to Windows Install Drive Creator. The obtained system information is available on the home screen, and it keeps updating all the time. Apart from Windows 11, Win11 builder also supports you to download Windows 10/8.1.
Step 3. Connect your USB flash drive to the computer. Win11 builder will automatically detect your USB device, so all you need to do is click the Create button.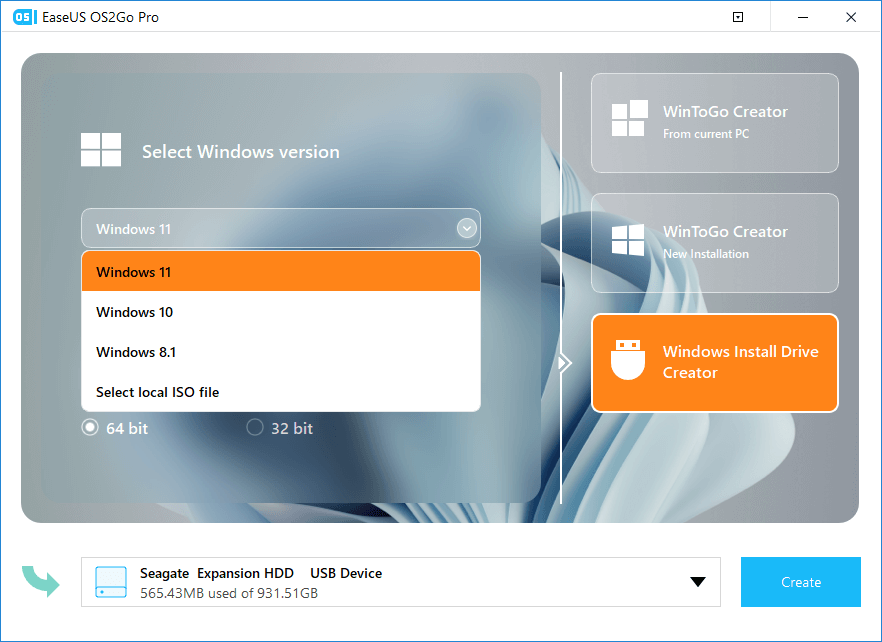 Step 4. The software will empty your USB drive data if it's a used one. Once the downloading process begins, wait there until it finished or leave for a while to do you own job.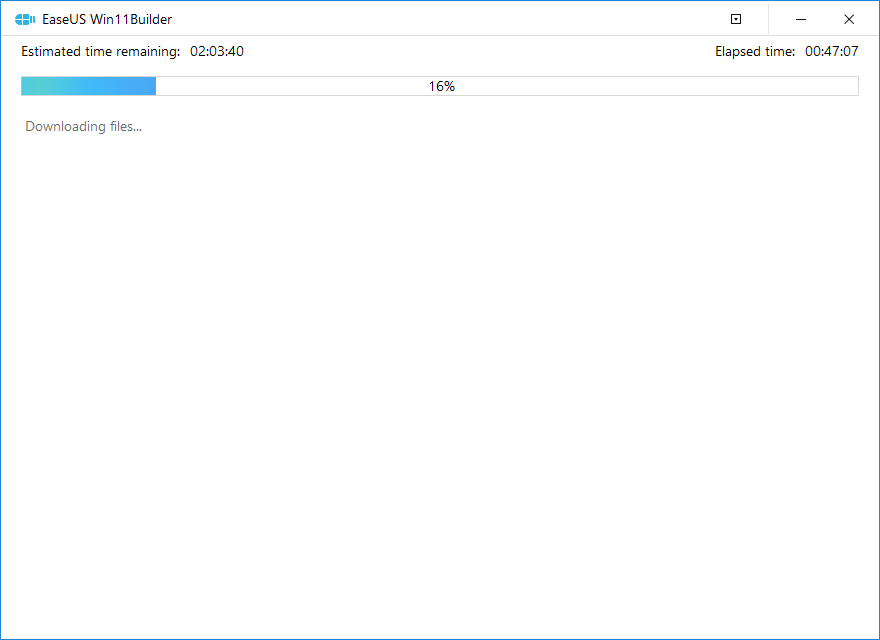 Step 5. After successfully downloading the Windows 11 iso image file on the USB drive, start to install Windows 11 from the bootable USB drive on your computer by following the installation wizard step by step.