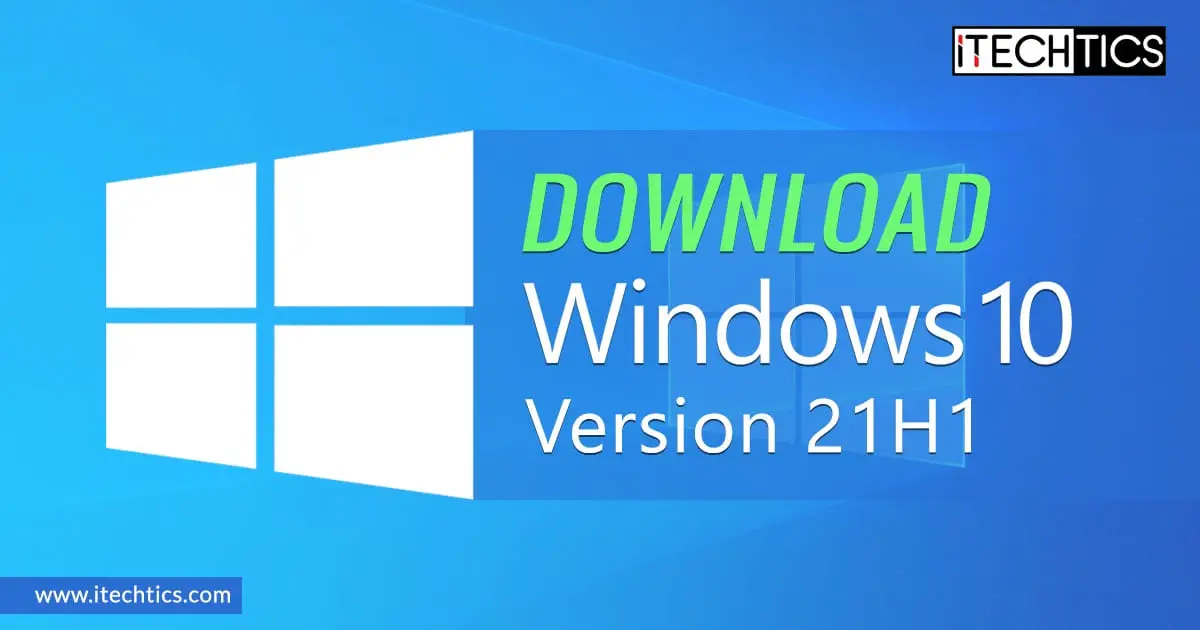 Microsoft has finally released the Windows 10 May 2021 Update (Version 21H1). The latest version of Windows 10 is available on the stable channel and can be downloaded and installed through either Windows Update or by downloading the ISO directly. Windows 10 v21H1 is long-awaited with a bunch of new features and improvements.
If you want to install Windows 10 Version 21H1 using Windows Update, you will need to press the Download and install link on the Windows Update settings page. This is because initially 21H1 has been released as an optional update. The update will be an enablement package which is relatively small if you are currently on Windows 10 version 2004 or 20H2. Hence, the update should not take more than a few minutes.
Download Windows 10 Version 21H1
Installing Windows 10 21H1 will change your Operating System's build to 19043.928.
Download Windows 10 v21H1
You may use the links provided below to download the ISO image for Windows 10 v21H1:
  Download Windows 10 Version 21H1 ISO 64-bit English (5.4 GiB, 152,885 hits)
  Download Windows 10 Version 21H1 ISO 32-bit English (3.8 GiB, 28,542 hits)
The above mentioned ISO file links are for Windows 10 Build 19043.928. The ISO files include the following editions of Windows 10:
Windows 10 Home
Windows 10 Home N
Windows 10 Home Single Language
Windows 10 Pro
Windows 10 Pro N
Windows 10 Pro for Workstations
Windows 10 Pro for Workstations N
Windows 10 Pro Education
Windows 10 Pro Education N
Windows 10 Education
Windows 10 Education N
Please note that these are direct download links provided by Microsoft. These links are reset every 24 hours. You should download the ISO within a 24-hour period to make sure you can resume and complete the download process.
You can also download Windows 10 Version 21H1 using the Microsoft Update Assistant or using the Media Creation Tool.
Learn how to extract the direct download link from Microsoft's Windows 10 download page.
Windows 10 21H1 Technical Specifications
Codename: 21H1
Build: 19043.928
Release date: May 18, 2021
Kernel: WinNT 10.0
Architecture: ARM64, x64, x86
Languages: Available in 35+ languages
SKU: Education, Enterprise, Home, Pro (The N, KN, and Chinese editions are also included).
Price: This update is free for all users who are already using Windows 10.
System requirements: The system requirements haven't changed much. If you are already running Windows 10, you're good to go. Your system must meet the following minimum requirements:
The recommended requirements are a lot more than the minimum ones.
RAM
1GB for 32-bit and 2GB for 64-bit Windows 10
HDD space
32GB
CPU
1GHz or faster
Compatible with x86 or x64 instruction set.
Supports PAE, NX and SSE2
Supports CMPXCHG16b, LAHF/SAHF and PrefetchW for 64-bit Windows 10
Screen resolution
800 x 600
Graphics
Microsoft DirectX 9 or later with WDDM 1.0 driver
Minimum system requirements for Windows 10
Install Windows 10 21H1
You can install Windows 10 v21H1 using ISO images by either creating a bootable device or running it directly on the machine you want to install it on.
To install Windows 10 version 21H1 on your machine, right-click the ISO image and click Mount from the context menu. Then, use File Explorer to open the mounted ISO and double-click the executable named Setup. The Windows 10 installation wizard will now run. Click Next.
The wizard will now check for any pending updates and then begin to install Windows 10 21H1 on your computer. A reboot will be required once the installation is ready to begin. Restart the computer once it is and you will have successfully installed it.
Final verdict
Microsoft switched to a different naming convention for their Windows 10 releases in the middle of 2020. 21H1 depicts that this version is being released in the first half (H1) of 2021. Regardless, the new version 21H1 has a few things to offer of which you can read all about here.
We suggest that you upgrade to the latest version of Windows as soon as the stable version is released for a smoother and convenient experience. Since Microsoft has already removed all upgrade blocks from Windows 10, you will be upgrade to Version 21H1 even if you are running an older version of Windows 10 including Versions 1803, 1809, 1903 and 1909.
What is your experience with Windows 10 Version 21H1? Please share your experience in the comments below.
Also see:
Usman Khurshid is a seasoned IT Pro with over 15 years of experience in the IT industry. He has experience in everything from IT support, helpdesk, sysadmin, network admin, and cloud computing. He is also certified in Microsoft Technologies (MCTS and MCSA) and also Cisco Certified Professional in Routing and Switching.