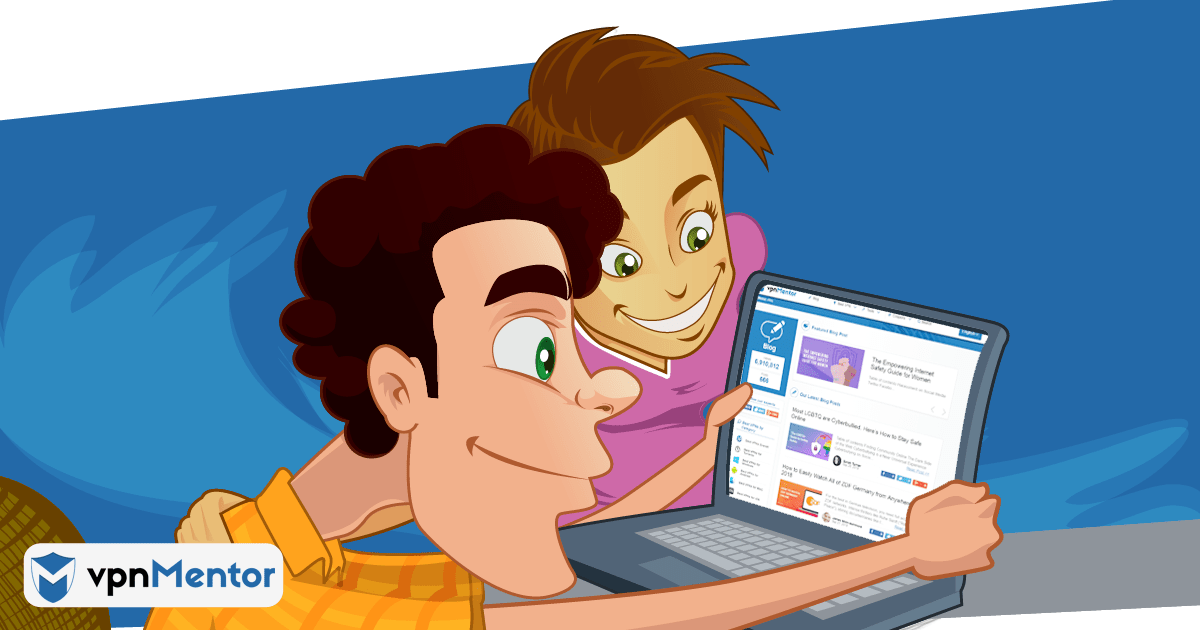 Get Your Nord VPN account NOW ! claim the discount
The Facebook-Cambridge Analytica, Equifax, and Snowden incidents demonstrated just how much data is collected and stored from your phone. This compromises your privacy and also puts you in danger of cybercrime like identity theft, fraud, and ransomware threats. That's why it's a good idea to use privacy apps for Android to protect yourself online. However, some apps are better than others, and some unverified privacy apps can even be dangerous.
My team and I tested 50+ privacy apps to find the best ones for Android. The apps I shortlisted are compatible with most Android versions and improve privacy on your device. Overall, I found that a VPN gave me the best combination of private browsing and protection against cyber threats. You can use a VPN in conjunction with other privacy apps for the best protection.
My top recommended VPN is ExpressVPN. It offers an easy-to-use interface with excellent all-around protection. The massive server network also lets you unblock your accounts on your favorite services like Netflix or Disney+ from anywhere in the world. You can try ExpressVPN risk-free as it's backed by a 30-day money-back guarantee. Getting a refund is hassle-free if you're not satisfied with the service.
Get ExpressVPN for Android Now
Short on Time? Here Are the Best Privacy Apps for Android in October 2022
ExpressVPN — The best VPN for your Android device, with military-grade AES 256-bit encryption and a vast server network to securely access your favorite content. You can try it with confidence as it's backed by a 30-day money-back guarantee.
DuckDuckGo — Excellent security features to safeguard your Android search, browsing, and downloading experience.
Signal Private Messenger — Centralized encrypted messaging service for Android to protect your communications from prying eyes.
Bouncer — Grant Android permissions temporarily to secure your device from malicious apps and trackers.
LastPass Password Manager — User-friendly password manager app for your Android smartphone that keeps your passwords secure.
And 5 other great Android apps for privacy…
The Best Privacy Apps for Android — Full Analysis (Updated in 2022)
My recommended apps all have user-friendly Android interfaces compatible with multiple smartphone models — all verified from the Google Play Store. They include unique services to offer all-around device protection.
These apps help protect your online presence with strong security and privacy features. Most of them are also open-source, which provides you with better security and a safer user experience.
1. ExpressVPN — Military-Grade AES 256-Bit Encryption to Secure Your Android Device From Hackers
Editor's Choice Editor's Choice
Try Risk-Free for 30 Days
Tested October 2022 Available on:
Windows Mac Android iOS
Chrome Router Smart TV More
Try ExpressVPN >
www.ExpressVPN.com
Strong encryption makes your online activity and Android communications unhackable
5 connections to maintain your privacy on multiple Android devices
Secure Lightway protocol provides super-fast speeds for streaming or mobile gaming
3,000 servers in 94 countries to unblock international content
ExpressVPN offers military-grade AES 256-bit encryption to secure your data traffic from hackers and snoops — even on unsecured public WiFi hotspots. This level of encryption is essentially impossible to hack, meaning that everything you do on your Android device online is kept private. Perfect Forward Secrecy strengthens protection by varying encryption keys. When I tested ExpressVPN, it didn't leak any IP/DNS data either.
The VPN also has a proprietary Lightway protocol that safeguards your network connection without compromising on speed or battery life. Or you can choose from other secure protocols like OpenVPN, L2TP/IPsec, or IKEv2. Plus, you get a Network Lock kill switch that cuts your connection if the VPN tunnel fails (which never occurred during my tests). This prevents your device from reverting to your usual IP address and exposing your online activity.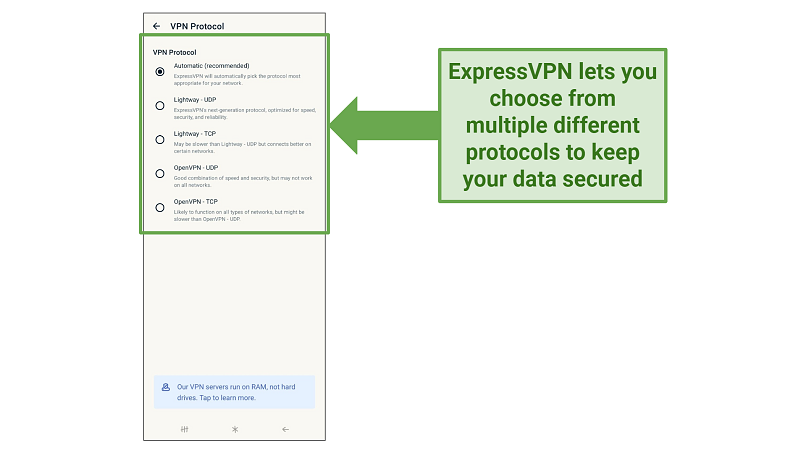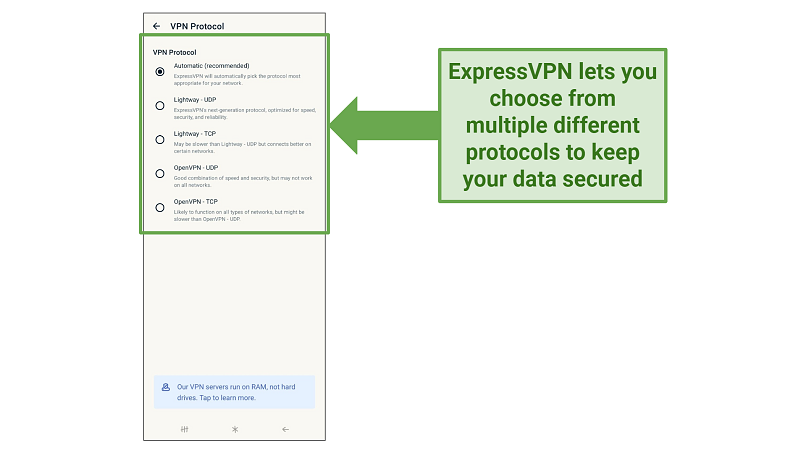 You can configure the protocol you want by using the settings panel on the ExpressVPN Android app
Your privacy is protected by TrustedServer technology, meaning the service wipes any user data with every RAM-only server reboot. ExpressVPN is headquartered in the privacy-friendly British Virgin Islands (outside the data-sharing 5/9/14 Eyes Alliances), so it's protected from data-retention laws. The app also has a zero-logs policy, meaning your data isn't collected or shared with anyone, including governments.
As a bonus, the service can help you unblock geo-restricted content on your Android device, thanks to servers in 94 countries. I accessed my Netflix, Disney+, and Hulu accounts using the US servers. The VPN is fast enough for 4K streaming too. You only need 25 Mbps for UHD streaming, and I recorded average speeds of 91.7 Mbps (just an 8.3% drop from my usual on my 100 Mbps connection).
There are native apps for all Android devices, including Android TV, which is great for unblocking geo-restricted content on the big screen. The apps are available in 17 different languages on the Google Play Store and are compatible with devices running Android 5.0 and newer. Plus, there's 24/7 live chat customer support if you get stuck with the installation process.
Subscription costs are a bit pricey, starting at $6.67/month. However, ExpressVPN regularly runs offers that help you reduce the price. I got 49% off on the 12-month plan with 3 months of free service. You can also pay with Bitcoin for increased privacy.
There's a reliable 30-day money-back guarantee backing this service as well. I tested the refund process, and everything was seamless. After answering a few questions on the live chat about why I was leaving, my request was approved. The entire process took just 3 minutes to complete, and I got the refund in my bank account in 3 days.
Try ExpressVPN Risk-Free Today
2. DuckDuckGo — Browse, Search, and Download Privately on Your Android Smartphone
Keeps your search history private with an automatic wipe every time you restart the app
Blocks ads and trackers on the sites you use to stay safe from malware and spyware
Forces sites to use encrypted connections, protecting your data from cyber threats
DuckDuckGo is a secure browser and search engine for Android that helps you protect your data from advertising companies, apps, or websites. Most platforms collect personal data to deliver targeted ads. This is where DuckDuckGo steps in and encrypts your connection, so your activity stays hidden.
The app also comes with browser add-ons like an ad and tracking blocker to stop third-party advertisers from following your movements around the web. It forces any sites you visit to load in their safest version (HTTPS).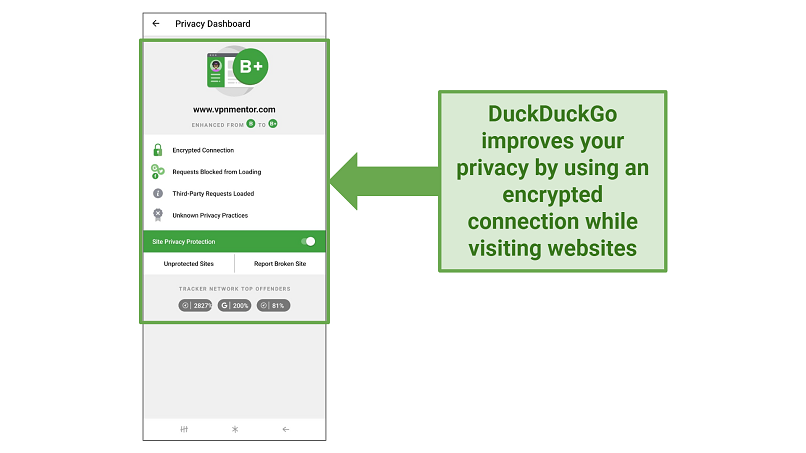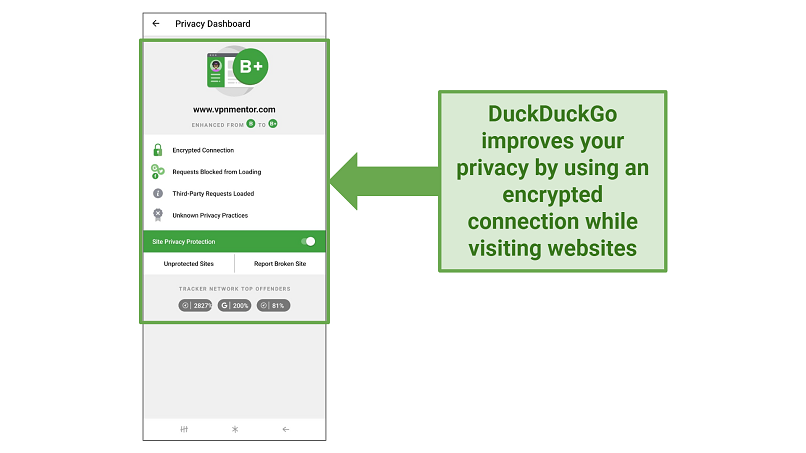 Your search history and browser tabs are all deleted once you exit the app too
Search engine policies are usually not very privacy-friendly and can force you to agree to constant monitoring of your entire digital footprint. This app limits the information that websites like Google, Bing, or other apps can collect about you. DuckDuckGo's privacy policy clarifies that the app doesn't save any of your searches. The service is open-source (anyone can check its security by auditing the code) and verified by the Play Store. It has GPC (Global Privacy Control) built in as well.
You can download DuckDuckGo for free. There are no hidden payment charges and it works on all devices running Android 6.0 and above.
3. Signal Private Messenger — End-To-End Encrypted Android Messaging App to Secure Your Texts Against Snoops
Decentralized messaging service to protect your chats from hacks and prying eyes
Open-source app code with robust security protocols that ensure maximum security
The strict no-logs policy means your data is never stored or shared with third parties
Signal is an open-source messaging service by Open Whisper Systems that allows you to chat securely with your friends and family using end-to-end encryption. This ensures that only you and the person you're communicating with can read what is sent. The app also encrypts your voice and video calls for added privacy.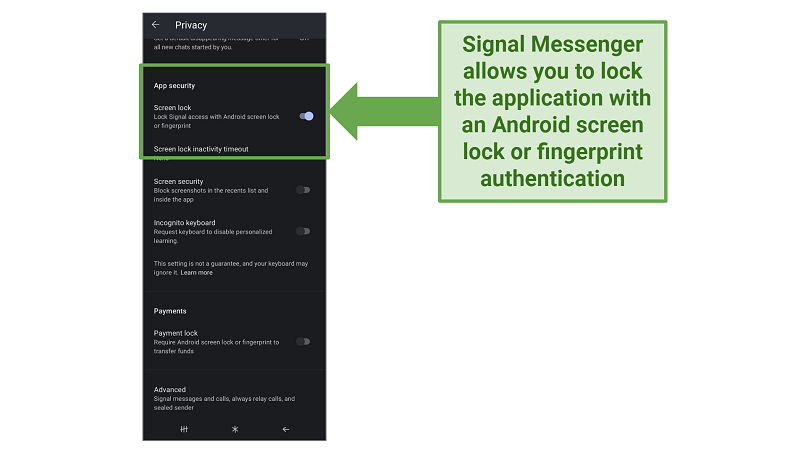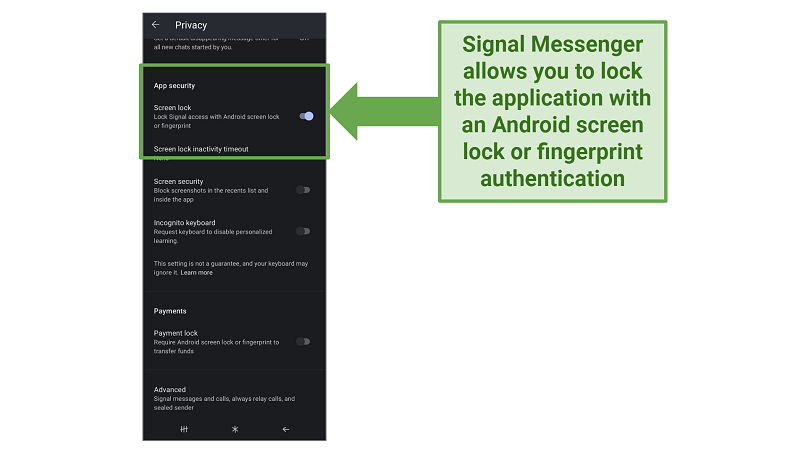 The app gives you the option to customize the lock you use so no one can access your messages except you
Peer-reviewed cryptographic protocols bring added security to your text messages. They provide secure connections, enabling you to communicate with others privately. You can text people who aren't using Signal too; the app warns you with an "Unsecured SMS" notification to help you stay safe.
Just like ExpressVPN, the app doesn't store or share any user data or metadata, such as contact lists, icons, or names. So, it's the perfect alternative to apps like LINE or WhatsApp, Instagram, and Facebook (owned by the data-hungry Meta corporation).
The app is free and available to download on the Google Play Store. You just need to verify your phone number to make an account, and you're ready to text your favorite contacts in privacy.
4. Bouncer — Manage Temporary App Permissions to Protect Your Android Device From Malicious Software
Allows you to assign temporary permissions to apps and disables them after you exit
Easy-to-use app with helpful pop-up notifications for all the permissions it grants
Great compatibility supporting all devices running Android versions 7.0 and above
Bouncer is an Android accessibility service that activates when you grant permissions to any app. The service gives you the option to remove the app entirely or to grant permissions temporarily. For example, if you want to play a mobile game but don't want the game to use the call logs permission, you can use Bouncer instead. Bouncer also provides you with pop-up notifications every time an app asks for permissions.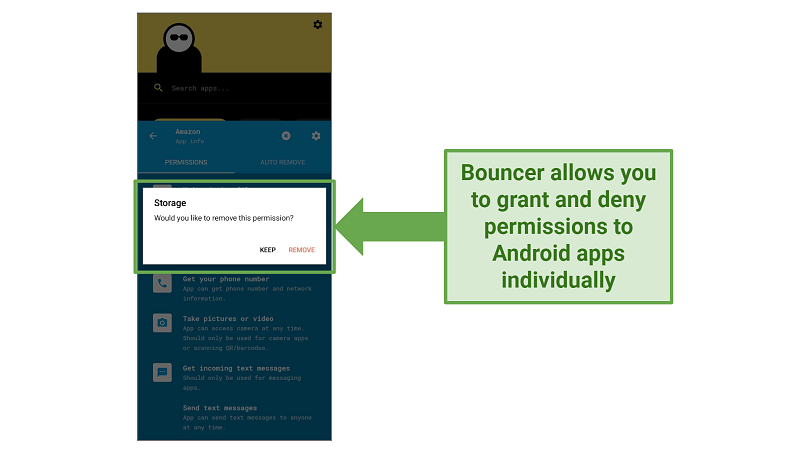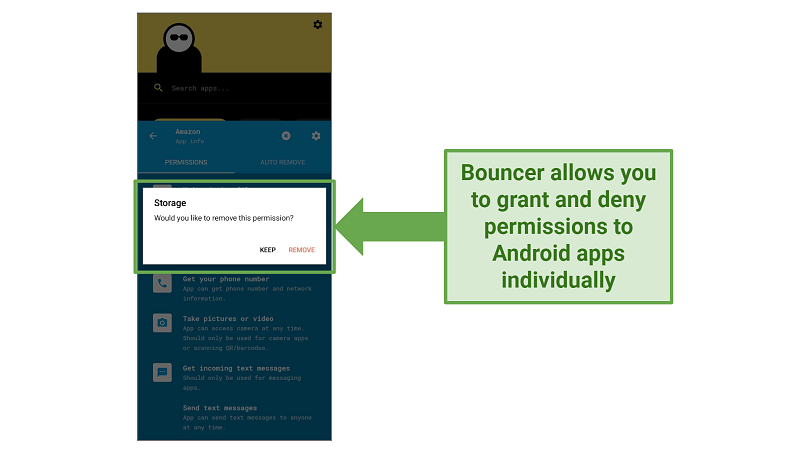 You can kill any app that takes a lot of unnecessary permissions to function
As soon as you terminate any app, the service automatically removes all the permissions for you in an instant. This is very useful if you use a lot of apps on your Android device and don't have time to track which apps have access to your data.
The Bouncer app can be installed on Android phones running versions 7.0 and up. It isn't free to use, but I think it's worth the $1.99 (at time of writing) to improve your phone's privacy automatically.
5. LastPass Password Manager — Securely Store Your Passwords on Your Android Device
Creates and manages strong passwords for all your accounts, so you don't have to
Helps you update your old passwords and stores all new ones in a safe digital vault
Offers fingerprint two-factor authentication to maximize the security of your passwords
Having one password for all your logins is dangerous — one hack or leak and all your accounts are compromised. LastPass is a password manager that creates new, stronger passwords for all the services you use. You also get automatic suggestions to change and update your old passwords from time to time.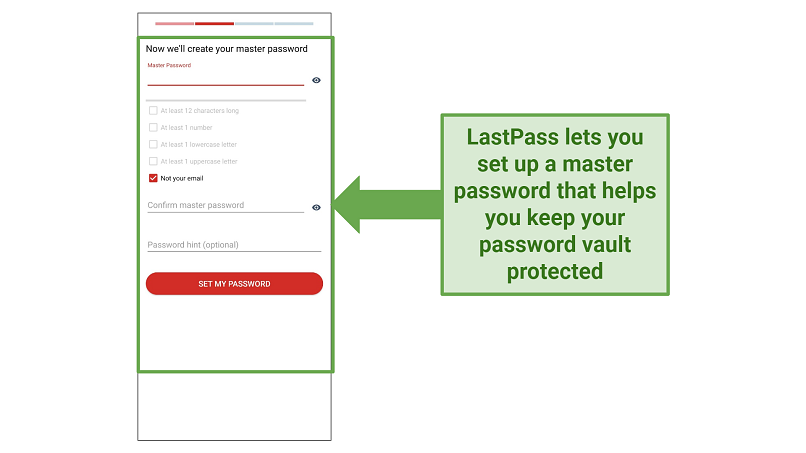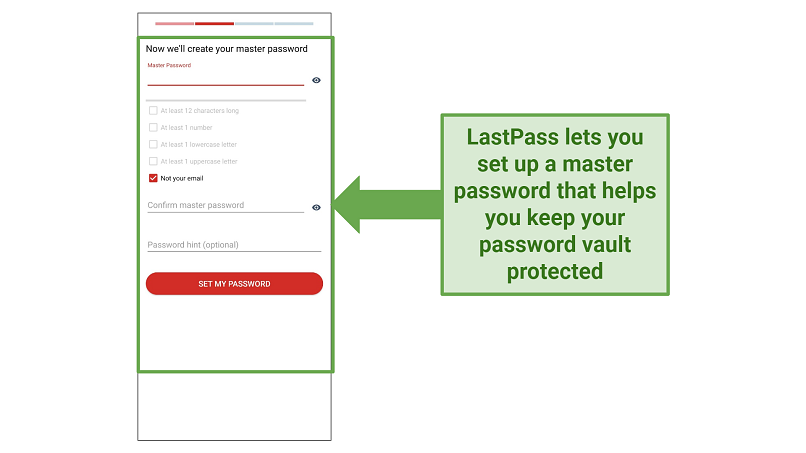 LastPass allows you to update old passwords and warns you of data leaks that might have put you at risk
After a password has been created, LastPass automatically fills it into apps or websites as needed. You just need to touch a pop-up prompt that appears and authenticate the password with your fingerprint. Plus, all your passwords are stored in a digital vault and are kept safe until you need to access them.
The service has easy-to-use apps for any Android device and is free to download, though it offers in-app purchases too. The premium subscription is $3 (while writing this), and you can also get a family plan for $4 that includes 6 individual encrypted vaults.
6. ProtonMail — Password-Protected Email Service for Your Android Smartphone
Enables password-protect your emails, so they're only seen by the intended recipient
Offers you a self-destruct feature that deletes chosen emails within a set time frame
Easy-to-use interface with customizable folders and tags for fast access to your mail
ProtonMail is the app you use if you want to send password-protected emails that self-destruct. You can set emails in your inbox to delete after a certain amount of time or send emails that automatically self-destruct when you choose. Developed by the scientists at CERN, the app uses open-source, end-to-end encryption technology to keep all your emails safe from prying eyes or snoops online.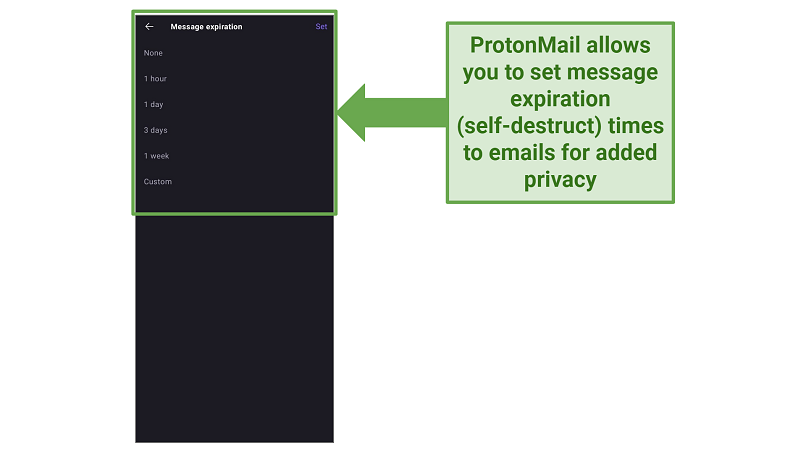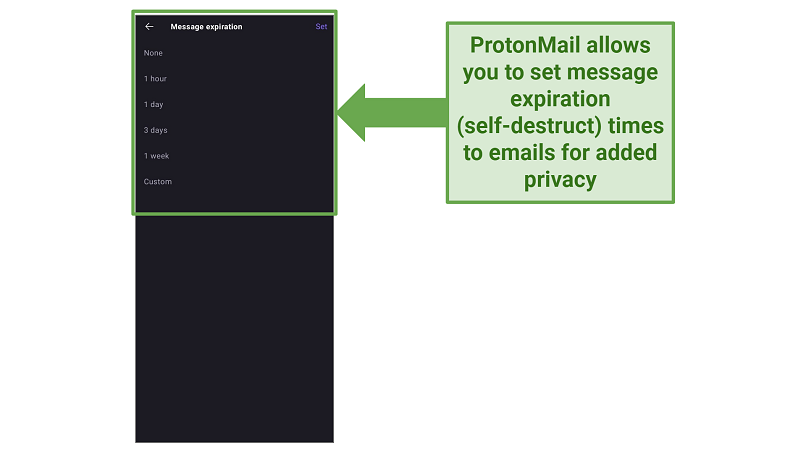 You can also set emails in your inbox to delete themselves after a chosen amount of time
The open-source app retains no records of any user data. Any emails you do hold onto are kept in encrypted cloud storage. The privacy policy states that its own employees couldn't read your emails if they wanted to.
You can download ProtonMail's Android app for free from the Google Play Store. The interface is straightforward, with customizable labels and folders to help you sort all your emails. You also get 500MB of storage and 150 daily emails with a free account. If you want more storage, message counts, or email filters, you can upgrade to a premium plan starting at $48 (while I tested it) for 12 months.
7. Norton 360 Antivirus — Keep Your Android Phone Safe From Malware, Spyware, and Viruses
Scans and protects your Android devices from viruses, malware, and ransomware
Encrypts your internet traffic to stop hackers and snoops seeing what you do online
Helps you to track your device's current location if you lose it or have it stolen
Norton is an antivirus app that scans and removes malware, spyware, and viruses from your Android device. The service includes tools that enable you to block unwanted calls and text messages. It can also lock Android devices remotely and track your device using maps if you ever lose it or it gets stolen.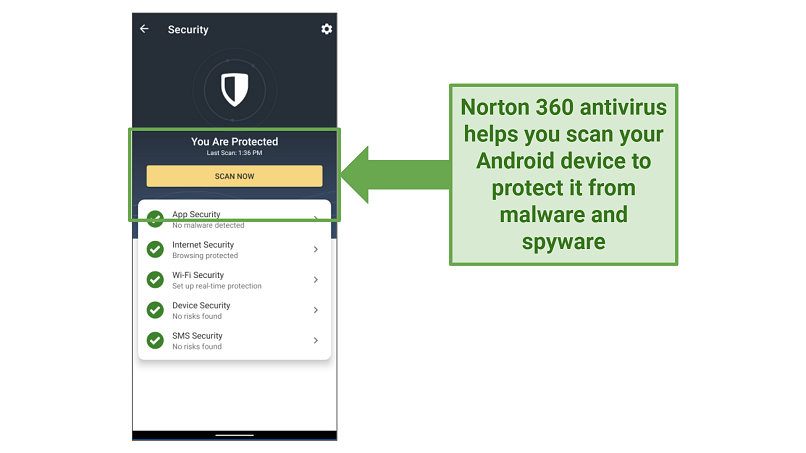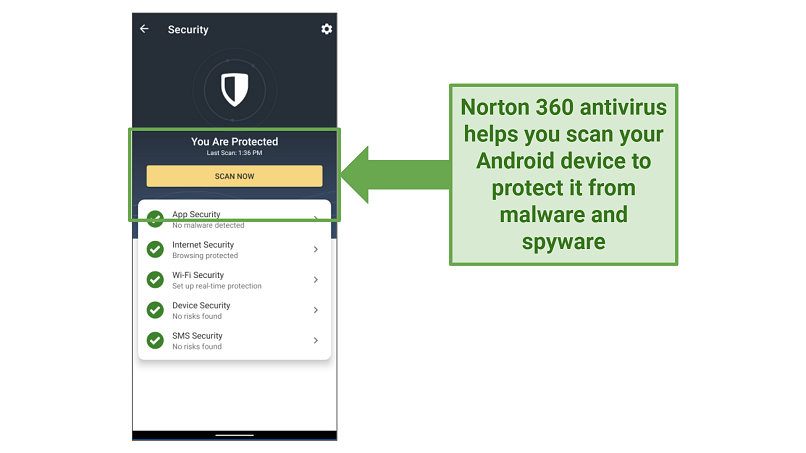 The Norton antivirus also has WiFi and internet security features that block any malicious websites
The app includes tools like a WiFi analyzer and ad-blocker to protect against ransomware and other online privacy threats. Plus, it encrypts your internet traffic so you can browse online without worrying about hackers.
You can install Norton on devices running Android 8.0 and above. The service is free to download but has in-app purchases that let you subscribe to the premium version.
8. Glasswire — Monitor and Track Your Android Apps Data Usage to Block Unwanted Data Leaks
Enables you to track your mobile data usage with information from individual apps
Has a robust firewall service to block sites containing malicious trackers and viruses
Good compatibility, including smartphones and tablets running Android 6.0 and above
Glasswire lets you monitor the behavior of apps using your data. The service runs diagnostics and shows you all the apps using your data in real-time. This helps you see whenever any app connects to its servers or uses data in the background. So, you can remove apps that could be spying or using data unnecessarily. You can also set data limits, block certain apps from accessing WiFi or cell connections, and check your internet speeds in the app.
The app is essentially a firewall that puts a barrier between your device and the internet, blocking potentially harmful apps from secretly using your data.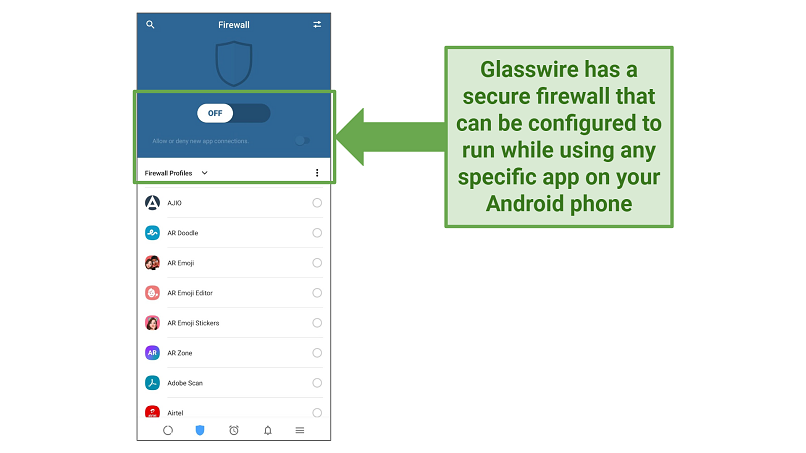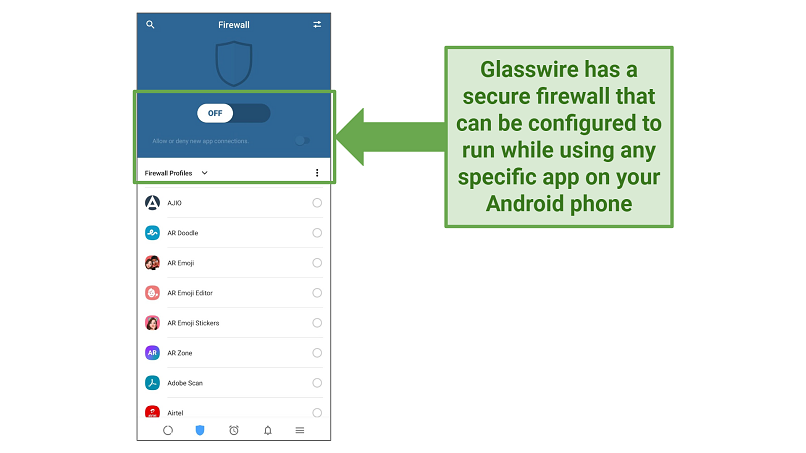 The app allows you to set app-specific limits on mobile data usage
Glasswire can be installed on devices running Android 6.0 and above and is free to download from the Play Store. You can also pay for different premium versions — Basic, Pro, or Elite — that give you additional connections, themes, and protections.
9. Google Authenticator — Secure Two-Step Verification Service for Your Android Smartphone
Allows you to secure your login attempts with two-factor authentication (2FA) OTP
Intuitive and easy to use with fast authentication using QR codes and setup keys
Offers easy login sync across multiple platforms that help you protect your account
A quick way to add extra protection to your online accounts is by using 2FA (two-factor authentication). 2FA requires you to have a second form of lock to get into your app. Google Authenticator generates an OTP (One Time Password) that acts as a second form of authentication when you try to access any compatible service on your phone. This makes it difficult for any hacker to get into your account.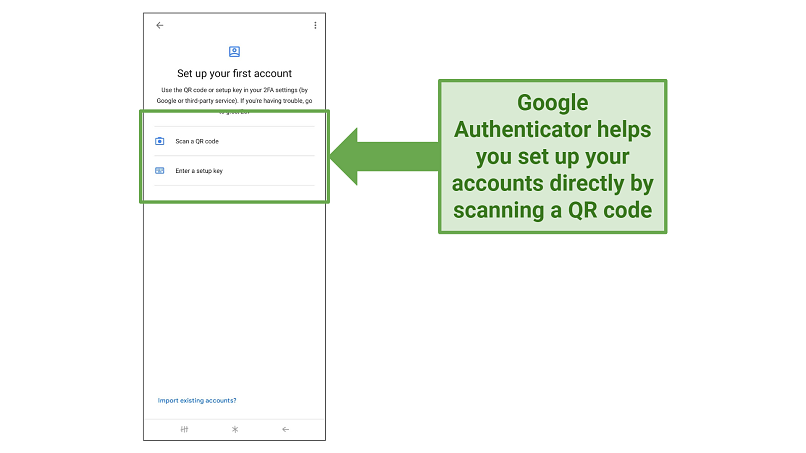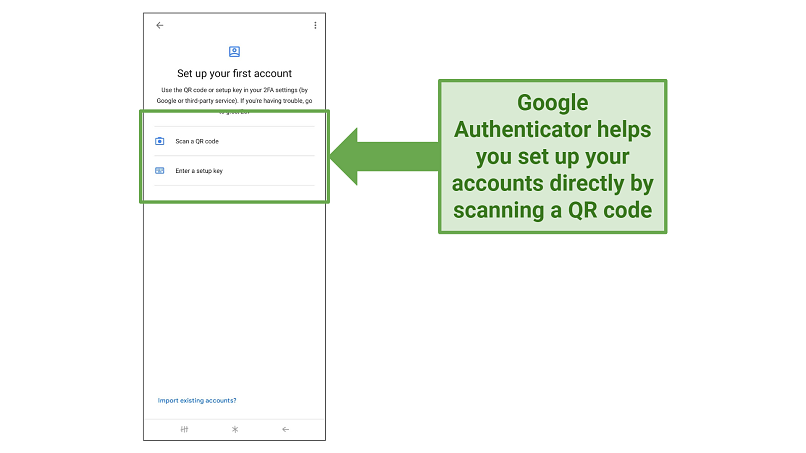 The authenticator interface is easy to use and allows you to access your online accounts securely
The app also includes advanced security features like support for app-level 2FA protection, and you can use it on multiple devices simultaneously. Plus, you can easily transfer your account between devices via a QR code.
10. Syncthing — Open-Source Peer-To-Peer File Synchronization App for Safe Data Transfers Using Your Android Device
Open-source platform that helps you sync and transfer files to other devices securely
Provides an encrypted peer-to-peer connection to keep you safe from data leaks
Works on older devices running Android 4.1 and above for excellent compatibility
Syncthing helps you securely synchronize (sync) files between 2 devices. For example, you can use the app to back up the files on your Android device to your laptop. Plus, Syncthing copies data between devices using a secured, encrypted connection. This helps you protect your data from leaks while transferring it to other devices or cloud storage servers.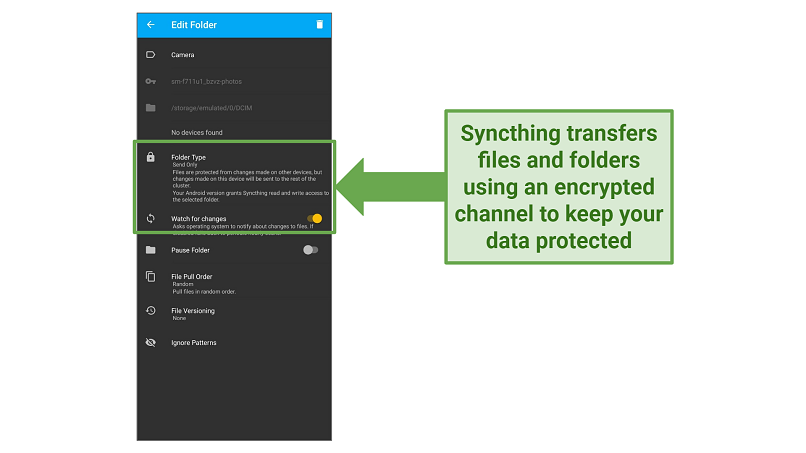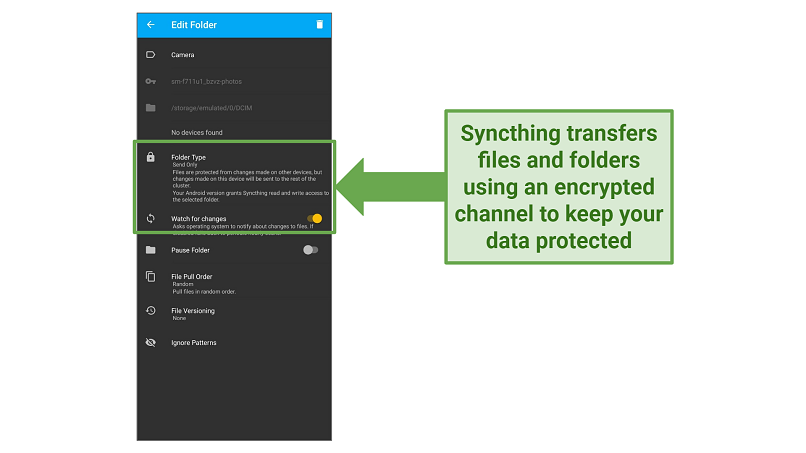 You can use Syncthing across multiple devices and transfer data using a wireless connection
As it uses a peer-to-peer connection, you don't need a third-party service like Dropbox as a medium between your devices. Like DuckDuckGo and other shortlisted apps, Syncthing is also open source — you can be sure that it's safe. Plus, you can use it on all your devices to share files.
You can get Syncthing on the Google Play Store, and it works on devices running Android 4.1 and up for excellent compatibility.
Tips on How to Choose the Best Privacy Apps
All my listed privacy apps have excellent protection and advanced security for your Android tablet or smartphone. As mentioned, it's highly advisable to use a VPN as a privacy starting point. If you want to select your own privacy apps, here are the criteria I used to rank these services:
Open-source software — An open-source app means that anyone can verify the underlying code for potential security risks. This helps make the app much more secure and reliable.
Verified on the Google Play Store — You should only find and download apps from the Google Play Store. Using other third-party app stores can leave your Android device vulnerable to security risks like malware or spyware.
Needs minimal permissions — Get an app that doesn't require any unnecessary permissions to work on your Android device. That way, you know it's not stealing any of your data.
Easy-to-use Android interface — Look for user-friendly apps that provide a seamless experience on your Android device. Plus, the app should support multiple versions of Android.
Offers reliable customer support — Round-the-clock customer support is also great if you ever need any assistance while using an app.
Get the Best Privacy App for Android Today
FAQs on Using Privacy Apps for Android
Is it legal to use a VPN or privacy apps on Android?
Yes, it's legal to use all these recommended apps. Not only is it legal, it's always a good idea to use a VPN service or privacy-centric apps for Android to stay protected against rising cyber threats. Choose an app with strong encryption, robust security protocols, and a no-logs policy to safeguard yourself from hackers and snoops online.
Why is protecting my privacy online so important?
Because the internet can be filled with snoops and hackers looking to get their hands on your data. Your banking details, identity, and passwords are all stored online. So, failing to secure your data may result in cybercrimes like identity theft or fraud. However, you can safeguard your online presence by using the best Android privacy apps built for your device.
Why should I use a VPN for Android?
Using a VPN for Android helps protect your device. Reliable VPNs provide robust security features to safeguard your online presence, which is especially important on unsecured public WiFi networks. Get a VPN service with military-grade encryption to keep your online activity private.
A VPN can also help you access your geo-restricted accounts, like Netflix, when you travel abroad. VPNs mask your IP address and assign you a new one based on your chosen country. So, if you connect to a VPN server in the US, the websites you access think that you're actually in the US. This way, you can use a VPN to bypass many geo-blocks around the world.
Can I use free privacy apps for Android?
Some Android privacy apps are free, but you should be selective. Apps that are advertised as pro-privacy can actually include adware or malware. Stick to the tried-and-tested apps on this list to stay safe.
However, it's not recommended to use a free VPN for Android. Free VPNs often come with multiple limitations (like speed, data, and bandwidth caps) so they're no good for streaming, gaming, or even browsing on Android. At worst, some free services can log and sell your information. It's much safer and more reliable to use a paid VPN with a money-back guarantee.
Get the Best VPN for Android Today
Get the Best Privacy Apps for Android Today
Finding the best privacy apps for Android can get a bit tricky. That's why I only shortlisted Android apps with end-to-end encryption and robust privacy features, making them safe to use. Any of the services on my list improve your overall protection and keep you safe from hackers or snoops online.
That said, my top privacy app recommendation for your Android device is ExpressVPN. It has an easy-to-use interface compatible with devices running Android 5.0 and above. Plus, it offers impressive security features to help you avoid cyber threats. Best of all, you can try ExpressVPN with confidence. It's also backed by a 30-day money-back guarantee, so you can get a refund if you don't like using it.
Privacy Alert!
Your data is exposed to the websites you visit!
The information above can be used to track you, target you for ads, and monitor what you do online.
VPNs can help you hide this information from websites so that you are protected at all times. We recommend ExpressVPN — the #1 VPN out of over 350 providers we've tested. It has military-grade encryption and privacy features that will ensure your digital security, plus — it's currently offering 49% off.
Visit ExpressVPN